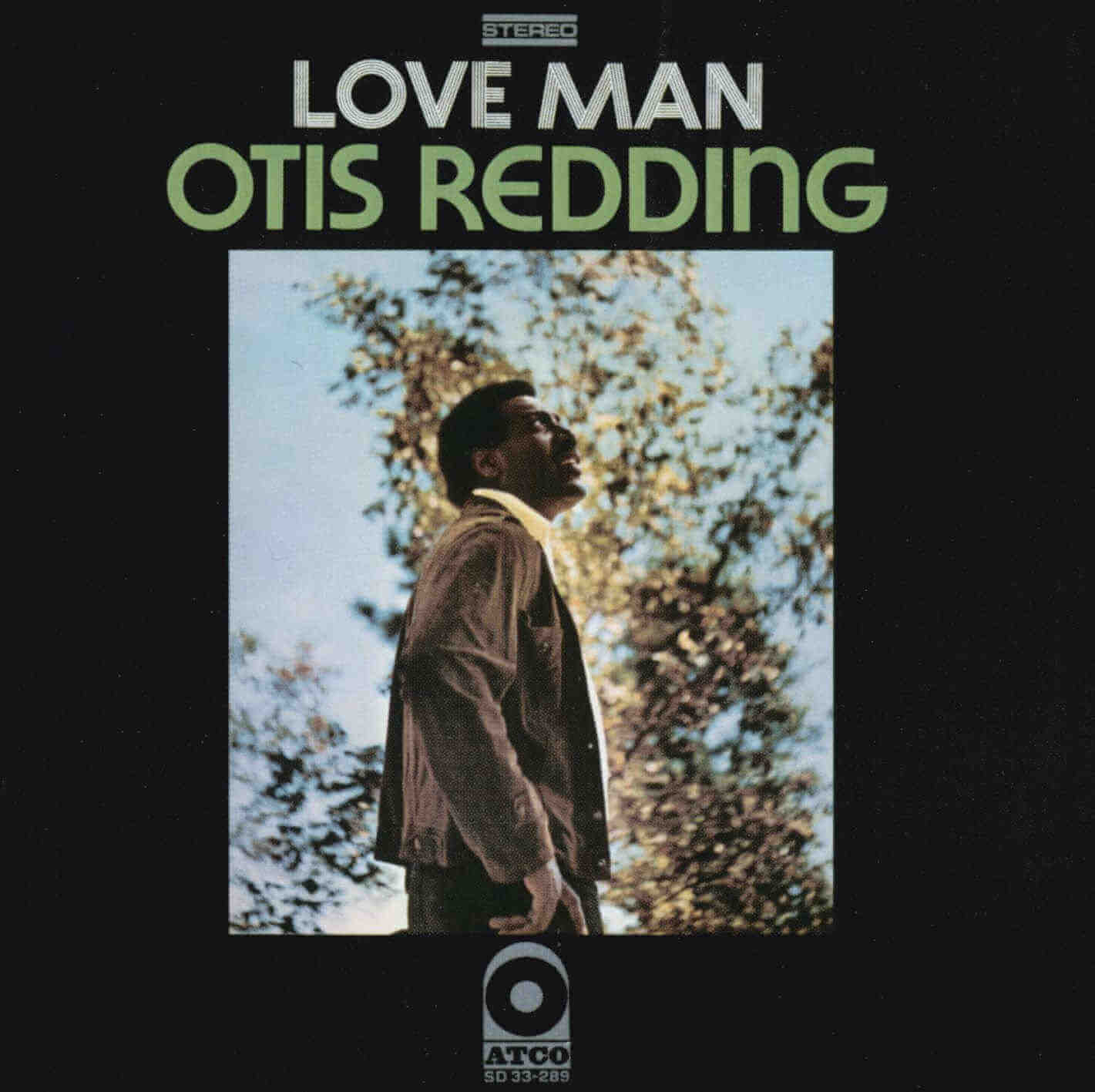 I didn't think I was going to love Love Man. I didn't think there was much Redding material left in the vault that Stax / Atco hadn't already released. "Love Man" proved that so long as Redding recorded it and Cropper & crew finished producing it, it's going to be good. Really good.
Otis Redding's first posthumous album, The Dock of the Bay is also good. Really Good. You can listen to it for hours. But it didn't live up to the Otis Blue or Dictionary of Soul standards. My fear going into "Love Man" is that I'll never hear that energy again in an album.
I was wrong. Dead wrong. I still can't listen to the thirty one & a half minutes of "Love Man" one time straight through. I usually have listen to it straight-through at least three times. Especially on Spotify, when it goes from the sensuous homage "Look at That Girl" back into the album's first song, the marching, charging grove "I'm a Changed Man," I'm energized & raring to go through the journey all over again. And again.
There is no real "A" single hit on "Love Man." The ballads aren't as deep. The anthems aren't as layered. The covers don't live up to their originals. But the grooves. Oh, the grooves. The grooves are there. In spades.
Listening to "Love Man" is like someone let you sit in a day's recording session at Stax and gave you a private session of songs Otis and crew were working on. It isn't quite ready, but it is a raw, infectious, toe-tapping, hip-shaking, love-making set. When it's done, you'll want to step outside with stiff drink & a good smoke, take a breath, dry yourself off, and go back in for more.
More than that, "Love Man" is a Memphis soul operetta, especially side two. The songs flow together brilliantly. Incredible storytelling on producer Steve Cropper's part.
Most significant: There are 12 songs on "Love Man.". Redding has 9 songwriting credits on the album. 75%. Far and away the most original contributions he had on a studio album to date.
Let's see what makes a Love Man:
Album Specs
Released: June 1, 1969
Where Recorded Stax Records. Memphis, TN. Mostly.
Record Labels: Atco
Produced by: Steve Cropper
Album Peak Chart: #46 on Billboard Top 200. #8 on Billboard R&B Albums.
Notable Musicians (to me) Included: Donald "Duck" Dunn, Steve Cropper, Booker T & The M.G.'s, Isaac "Shaft" Hayes.
Notable Reviews: AllMusic: 3/5 stars. Rolling Stone: Favorable. Entertainment Weekly: A-. The Rolling Stone Album Guide: 4/5 stars.
Top Single: "A Lover's Question", #20 US Billboard Hot Rhythm & Blues Singles, #48 US Billboard Hot 100. "Love Man", #17 US Billboard Hot Rhythm & Blues Singles, #72 US Billboard Hot 100, #43 UK Singles Chart. "Free Me", #30 US Billboard Hot Rhythm & Blues Singles, #103 US Billboard Hot 100.
Side One
"I'm a Changed Man " : Written by Otis Redding & Steve Cropper and Louiella Cullipher
"(Your Love Has Lifted Me) Higher and Higher": Written by Gary Jackson & Carl Smith
"That's a Good Idea": Written by Otis Redding
"I'll Let Nothing Separate Us": Written by Otis Redding
"Direct Me" : Written by Steve Cropper & Otis Redding
"Love Man" : Written by Otis Redding
Side Two
"Groovin' Time": Written by Steve Cropper & Otis Redding
"Your Feeling Is Mine": Written by Otis Redding
"Got to Get Myself Together" : Written by Otis Redding
"Free Me" : Written by Otis Redding & Gene Lawson
"A Lover's Question": Written by Brook Benton & Jimmy Williams
"Look At That Girl" : Written by Randall Stewart & Edward Morris
"I'm a Changed Man"
No buildup. "Changed Man" jumps straight into the story with quick, soothing M.G.'s horns and groove. It's a great b-side jam that doesn't give you time to breathe:
"You gave me pants
You gave me clothes
You gave me something to thin my holes, now."
"(Your Love Has Lifted Me) Higher and Higher"
I've been in love with Jackie Wilson's classic "(Your Love Has Lifted Me) Higher and Higher," since I was a little child stealing time to hear Dick Biondi's oldies on 104.3 FM WJMK Chicago. Along with Otis' Jackie's classic was one of the signature songs I hoped to hear each time the radio played:
After the first time I heard Otis Redding's cover, I developed the urged to skip over it. After a month of listening to it, I grew to enjoy it. It wasn't anything Otis did wrong. It simply wasn't Jackie's. 'Nothing a little time couldn't fix.
Otis will do that to you.
"That's a Good Idea"
It's a surprisingly complex A-B-Chorus jam. I love the buildups into the chorus.
"What you want
How you want
When you want it
Everytime you want it"
The musical crescendo in those sequences takes you up and over the waterfall, spilling you into spa till you're splashing about the room.
Then, starting with the second verse, they added a build-up to the build-up:
"Won't you kick of your shoe little woman
Throw 'em on the floor now baby
Kick off your shoe little honey
Throw 'em on your daddy's table"
With subtle Otis-esque lyrical variations thrown about.
Either way, it's a Good Idea.
"I'll Let Nothing Separate Us"
It's a great change-of-pace Redding ballad. Two minutes and fifty-four seconds to catch your breath. "I'll Let Nothing Separate Us" is simple, sweet, and straight out of the Redding gospel-confessional template. Just sit back or sway with your partner and soak it in. Cropper and Booker T. & the M.G.'s will let you guide you to the emotional highpoints of this little gem.
"Direct Me"
I first heard this back in 2011 while going through some of his greatest hits and compilations in search of nuggets. This song is as all-over-the-place crazy as it is honest. Otis goes from missing her, to blaming himself for her being gone, to offering to bake her favorite cake (I swear it still says "carrot cake"), then offers a $10,000 reward, then says he'll "chain & bound" her if he sees her again – which makes me wonder if that's the mistake he made and reason she left. Then the deputy sheriff is "on your trail" and the FBI "won't fai"l to find her. "they can't fail. They gonna brink you back."
"Shame on me shame on me
I made a big mistake
When I see my babe again
I'm gonna bake me her favorite cake

"Ten thousand dollar reward
For the first the one that finds her
When I get my hands on her, y'all
I'm gonna just chain and bound her

"Somebody direct me
Straight to my baby's love
Direct me
Straight to my woman's love, you, you

"Deputy sheriff, On your trail
The FBI, I know,
They won't fail, they can't fail
They gonna bring you back."
In today's word, the social media gallows would crucify anyone singing this type of song. Hell, if he was still alive when this was released he probably would have had some backlash. Damn, crazy.
Don't worry. When we get to "Your Feeling is Mine," his world is, once again, a much more uplifting, supportive, peace-love dope place:
"Love Man"
Straight six, fire-up-and-go. Nothing's going to stand out. Nothing's going to make you skip over it. Enjoy the toe-tapping cardio workout.
This song is another reminder I need to finish Jonathan Gould's autobiography. I wonder if the whole plan was to make a "Love Man," album with this being the title track or if it was just a thematic decision that needed to be made in the aftermath. So. Many. Questions.
Side Two of "Love Man" turns into a little operetta of sorts. The songs piece together a cycle of relationships, from joy & bliss to getting caught and facing the crossroads, through to questioning and contemplation.
"Groovin' Time"
This song will sneak up on you. It sounds like a cover because it's so cut & go rhythmic that it doesn't really sound like Stax Memphis soul, but it's a Cropper & Redding original. "Groovin' Time" got me thinking of the possibilities of where Otis & 'Crop where headed before the unthinkable happened. Oh, where they could have been gone.
"Your Feeling Is Mine"
Another Otis original. Simple. Confessional. Flawed. Brilliant. With a little build-up into the chorus. Pure Redding groove. Unskippable. It's really like reading a once-overlooked entry into his diary, soundtracked by Stax.
"Got to Get Myself Together"
Horns and tempo. Boom. I find myself singing the same couplet over and over again the last few months:
"Cause you know my mind, it changes
Oh, something like the weather."
But that might also be because we're leaving Bay Area for Oregon in 9 days. Mind's on the move.
But, just as you're dancing and enjoying this jam, the second verse gets confessional
"This is what she said
'It's raining and there is snow on the side
You got another woman by your side
You got to stop playing them tricks
You got to get that woman out there quick'"
Talk about sock-it-to-me.
"Free Me"
It's perhaps his deepest, most honest song since "R-E-S-P-E-C-T". Coming fresh off his come-to-Jesus realizations of getting caught womanizing in "Got to Get Myself Together," "Free Me" is an erratic, irrational, frenzied reaction by the womanizer. The song starts spinning that womanizer's the one who's "chained and bound" to pleading it's no use to try to continue the relationship, to confessing he loved her, to spinning that he tried, to admitting it's her call, to asking, once again, to be free to be himself.
"A Lover's Question"
Well, now he's wondering how the Hell he got into that mess in the first place. Taking this classic 1950's teenage ballad and turning it into 20-something drama is a genius move. "A Lover's Question" brings out Otis' insecurities layered with what is known today about his promiscuity, creating a piercing examination of what he should do next, but, instead, probably will do.
All backboned to Booker T & the M.G.'s. Brilliant.
As for the original version of "A Lover's Question," it was another gem I always hoped Dick Biondi played. Unlike Jackie's version, and I dunno whether it's the song's placement in the album, that it's just Otis' take that's incredible, or simply that I hadn't heard the song in so long, but when I heard this cover, millions of childhood memories flooded back to me. Whatever it was, I gravitated to this song. I leaned up to it, breathed in its scent, and was blown away.
I missed this jam. It was the first clue growing up that relationships were going to be more complex than mama told me they'd be.
Here's the 1958 original of "A Lover's Question", performed by Clyde McPhatter. Warm up your fingers and your doo-wop baritone. You'll want to snap & crone along:
"Look at That Girl"
Go fuckin' figure. Otis-be-Otis. On the prowl.
"I saw her dancing, dancing
In some old smokey place
I bet I was the only one there to watch her face"
They just didn't write them with such innuendo back then. Fuckin' brilliant, and the very Otis way to end the story.
As for the song's origins, I'm going to have to dig deeper because someone dun' fucked up somewhere. I tracked down that "Look at That Girl" songwriters, Randall Stewart & Edward Morris were a part of Stax. The duo gets credit for writing this song for The Fiestas on Old Town Records back in 1961 / 1962. I also found a copy of it on YouTube. There has be a deeper story than what I've found here because calling what The Fiestas did as the original to what Otis Redding "covered," would be like saying an apple is a copy of an orange because they're fruits. Take a listen and you'll here what I didn't hear – which was any semblance connecting the two:
They pretty much gave the duo credit because they used the title because, otherwise, the line "Look at that girl," doesn't even appear in Otis' version.
Perhaps they were giving them credit for inspiring the song. Now, I'm curious.
Incredible props to Steve Cropper (and Yves Beauvais in the Reissue), for piecing together an album that tells a really rich, authentic, probably-true Otis Redding story. "Love Man," could be an off-broadway play.
It makes me wonder if George Martin & Paul McCartney heard this album before they finished the back half of Abbey Road. The timing would line up. I ask because, 3 months after the release of "Love Man", The Beatles released Abbey Road, and album that, also had their side two pieced together to tell stories. I hope so. That would be incredible.
Whatever the case, all I know is that "Love Man" deserves more love than it receives in history.
Oh, look. "I'm a Changed Man," started up again. I know what I'm doing for the next half-hour…
What do you think? Did you 'Love' Love Man?
Sources included:
If I missed anything, please let me know.